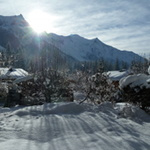 Fabulous time and the apartment was perfect
I rent a lot of places all over the world and this was by far the easiest, smoothest and most efficiently organised rental I've had yet – your information and communication is second to none – very confidence inspiring which is obviously important when using sites like holiday rentals, owners direct etc.
I'm really struggling to think of anything you could improve on but perhaps the directions for the last 100 yards once you arrive at the end of the Chemin de Champraz – we arrived quite late and it was snowing so we struggled in the dark to locate the Dame Anglais building as many of them look alike.  I may not have read the instructions properly to be fair!
Thanks again – we would certainly return if we come back to Chamonix and I'd recommend you to anyone else going there.
Best regards